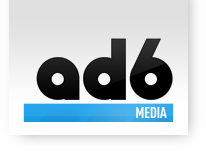 Start displaying your banners, on a fixed and guaranteed cpm payout. Forget revenue-sharing, CPA, CPC, and seasonal fluctuation. Our vision is to offer the most popular web format trying to be, clear and efficient.

It's up to you !
A classical and reliable format : a banner is an advertising format that will redirect the user to the advertiser's website when clicked. This format is a historical web format. In its logic of fixed and guaranteed CPM, Ad6 offers an innovative offer : you get paid the price you set. Choose the price of your advertisements. The company will only broadcast banners at the desired price. If no ads meet the selected price, the company will unblock your usual advertising networks.
Additional income
By choosing a higher payout than you will usually get from other display network, you will make additional income. The payout being fixed and guaranteed, the banners are added to your RSS feed, but they are also distributed at a clear and fixed price set by you. There is no impact on the time of year or the desired placement on your website; you know how much Ad6 is going to pay you.
Getting a good start
For every advertising space, look at the performance of your current advertising network over the past year. Choose your CPM for your banner ads, ad about 0.05€ to 0.10€ higher than the price you are currently receiving. The increase of payout will allow you to maximize the profit of your advertising space: you will be getting a higher payout and a higher fill rate. If you plan to change or add advertisements on your website, we recommend you to choose the 300x250 format. This format provides the best performance.
Fill Rate
factors: the chosen format (300x250 offers more filling than 728x90), seasonality (the number of displays may vary depending on the month of the year), the click rate depends on the location on the website (the higher the click rate, the more you will have Ad6 banners displayed).

Got questions ?
See bellow all the answers to your questions.


Got more questions ?
Call us at +44 203 445 0531